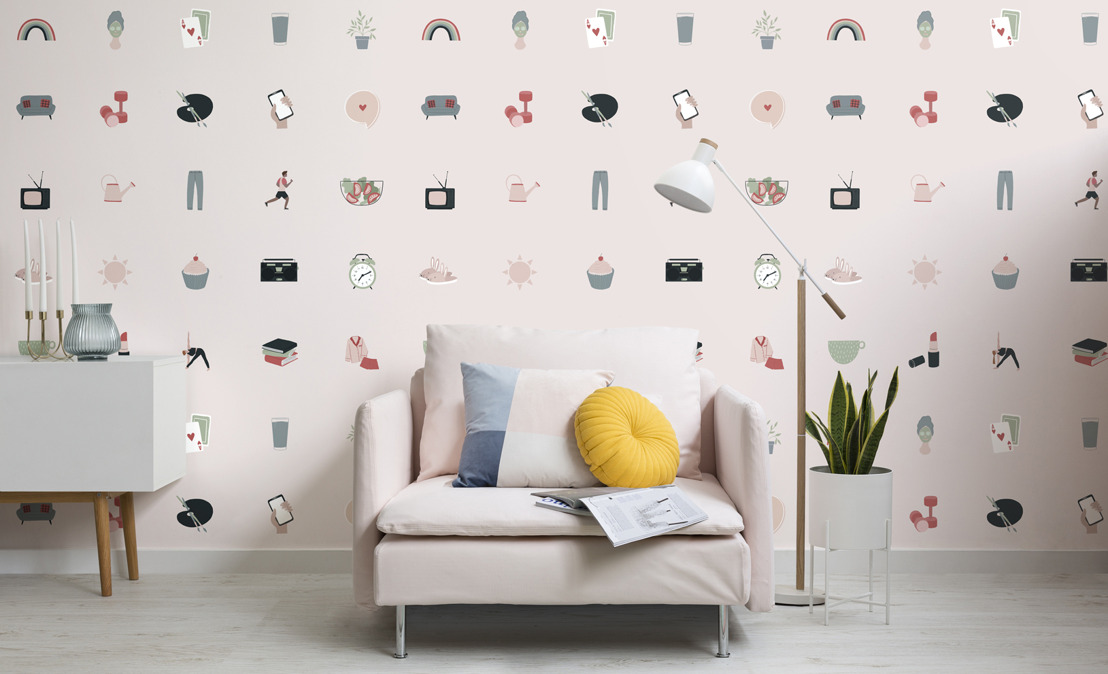 Surround yourself in self-care with new wellness-inspired wallpaper
MuralsWallpaper unveils its self-care inspired emoji mural, influenced by the activities you can do at home.
The world has been spending more time at home lately, and self-care is a key topic according to Google Trends - peaking towards the end of April. From yoga to baking, it's officially all about making time for yourself.
MuralsWallpaper has launched its new 'Self Care' design - inspired by the activities that make you feel good. From face masks to fluffy slippers, painting to virtual communication - this design is of global relevance.
Emojis are an art form in their own right. A study by Emojipedia found that the use of people and symbol emojis are the most popular, and these emojis have been interpreted into the design - hearts, running, and lipstick to name but a few. The study found that the use of positive emojis has unsurprisingly declined in the last few months, but this design gives them a modern, joyful update, created to stimulate happiness.
Designer Kat Jones from MuralsWallpaper comments:
"This fun pattern is made of emojis based around wellness, inspired by the activities we've all been undertaking in the last few months. The soft pink background helps the pattern pop, and it's the perfect feature wall for a bedroom or living room."
Product Details
The Self-Care emoji pattern mural is available to purchase now. For requests, please contact Leila Jones, PR Executive - leilajones@milexagroup.com.
UK: £37.00 per square metre: https://www.muralswallpaper.com/shop-murals/pink-illustrated-wellness-emoji-pattern-wallpaper-mural/
Europe: from €38.00 per square metre: https://www.muralswallpaper.com/shop-murals/pink-illustrated-wellness-emoji-pattern-wallpaper-mural/
US: from $47.36 per square metre: https://www.muralswallpaper.com/shop-murals/pink-illustrated-wellness-emoji-pattern-wallpaper-mural/
AUS: from $70.00 per square metre: https://www.muralswallpaper.com/shop-murals/pink-illustrated-wellness-emoji-pattern-wallpaper-mural/
NZ: from $75.00 per square metre: https://www.muralswallpaper.com/shop-murals/pink-illustrated-wellness-emoji-pattern-wallpaper-mural/
Canada: from $53.00 per square metre: https://www.muralswallpaper.com/shop-murals/pink-illustrated-wellness-emoji-pattern-wallpaper-mural/