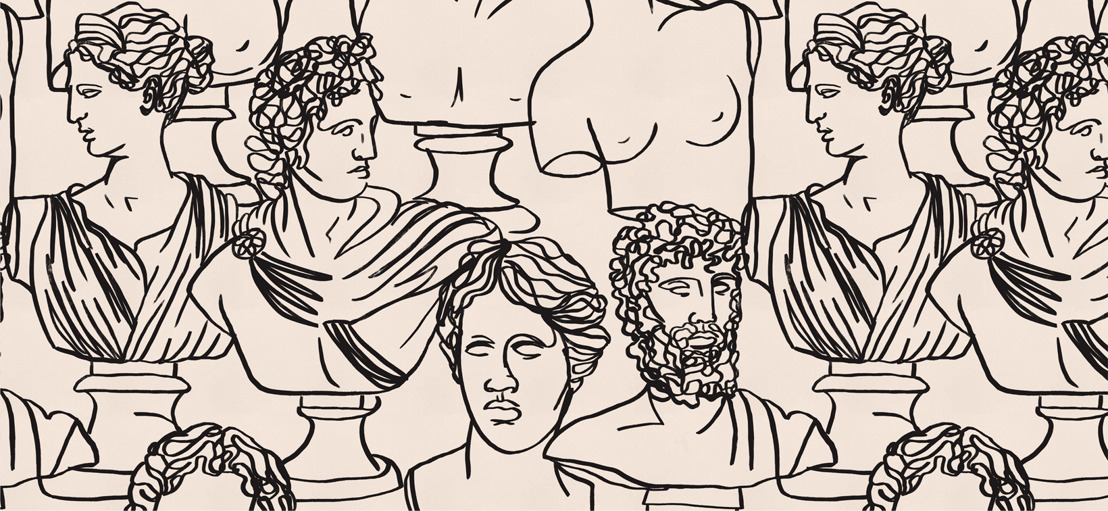 Introducing Greco Decor by MuralsWallpaper
MuralsWallpaper's latest collection explores the ancient accents trend, bringing classical decor into the 21st century.
Classical Ancient Greek and Roman accents never go out of style, but in 2020, they are truly having a moment - transcending from fashion to interiors. The trend has capitalised on the popularity of using the human form in design and illustration, but this time with a twist of classicism.
In celebration of the Ancient Greek trend, MuralsWallpaper has revealed a brand new collection: Greco Decor. The products take elements of the classicism trend to a modern-day dimension, with a very current colour palette that incorporates dusty pinks and soft mint greens. Comprising of four designs, each with two to three colourways, the collection explores traditional Ancient Greek subjects and patterns - from Athenian pottery to olive branches and busts.
By combining archetypal motifs with a fresh colour palette, the collection offers a contemporary spin on classical decor. Olympia is a line-drawn take on the iconic Grecian busts, featuring a neutral background with either dusky pink or black outlines. Athens is an intricately detailed product, exploring traditional scenes that are depicted on the period's pottery - similarly available in black and pink. Agora explores the architecture of the era with awe-inspiring columns, available in three colours - pink, black or cool mint. Lastly, Kalamata is inspired by the olive trees that still adorn the landscape of Greece today.
Lauren Kavanagh, designer of the collection states:
"The Greco Decor collection celebrates the influence that Ancient Greece still has on our interiors today. Whilst the aesthetic has never gone away, it is bigger than ever this year, and our designs offer a playful, modern way to take on the classics trend. The products make a perfect feature wall for living rooms, bedrooms and even dressing rooms."
Product Details:
Olympia, Athens, Agora and Kalamata are available to shop here: https://www.muralswallpaper.co.uk/wall-murals/feature-wallpaper-murals/
All murals are made to measure and priced from £37.00 /m2 or $4.40/ft2.
For all press enquiries, please contact Leila Jones, PR Executive - leilajones@milexagroup.com.