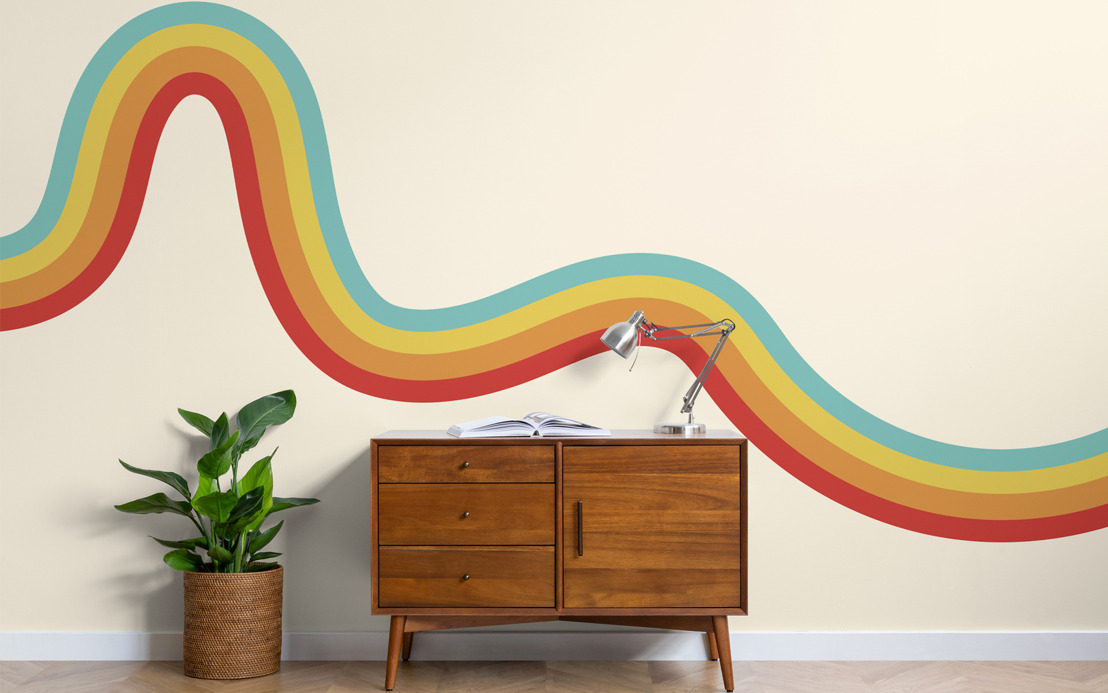 Feel-good Decor You'll Dig - 70s inspired retro wallpaper
Add some 70s cheer to your home with these six funky designs from MuralsWallpaper's latest collection.
The 1970s was a distinctive point in time for fashion and interiors. The style went one of two ways - boho hippie, or glamorous disco. In 2020, 70s interiors have had a pretty major revival. Prints, patterns and bright colour palettes are back. Even macrame is now an Insta-worthy trend. If you really want to make a statement, there's no better way to do so than with a 70s influenced feature wall - and the latest collection from MuralsWallpaper will have you buggin' out.
Six groovy designs make up the collection: Cheer, Boing, Rainbow Track, Sundown, Sun Rays, and Rock Candy.
A rainbow colour palette is paired with stripes and waves, whilst softer pastels meet a colour block silhouette emulating a sunset. If you love the sets of American Hustle, Austin Powers and retro Bond movies then these bold designs will take you back to the glory days of the 70s, but fit perfectly into any contemporary home. Pair them with wooden furniture or let the nostalgic feel keep on truckin' with mid-century modern furnishings.
Kat Jones, designer of the 70s collection said:
"Our vision for this collection was to give a nod to an era with its own iconic colour palette. With bright, exuberant colours and patterns, we've kept it modern and liveable for 2020 by combining with geometric shapes. The designs are the perfect backdrop to a funky feel-good living room. Wherever you place it, you're sure to feel your spirits instantly lifted!"
Product Details:
Cheer, Boing, Rainbow Track, Sun Rays, Sundown and Rock Candy are all available to purchase here: https://www.muralswallpaper.co.uk/styles/retro/
All murals are made to measure and priced at £37.00 /m2.
For further information please contact leilajones@milexagroup.com.